Cattlemen's Days Watershed Team Roping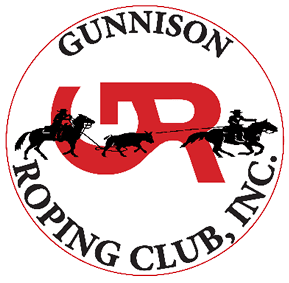 Date:  Wednesday, July 14th, 2021
Time:  TBD Team Auction
Team Roping will start immediately after the conclusion of the auction.
Place:  Gunnison County Fairgrounds
Entries Due: Date TBD, 5:00 p.m.
Download Flyer (PDF) Flyer Not Available at this Time
Please have only headers enter teams for Watershed Team Roping for picked teams and include draw entry fees for both ropers ($120 per team for 1 pick/1 draw). Draws for header or heeling are $30/run.
Please put phone number and email of contestants on your envelope so we can contact you in case of any issues. Questions 970.596.5329
$120/Team, Pick One/Draw one, 4 times max ($480/team), or Draw all runs up to 8 times (8 runs =$240/roper). 3 Head, progressive after 1. #7 Incentive pot (capped at #4) and the payout will be based on % of Incentive teams, & places paid on 3 head. Open to residents of the Gunnison Watershed, Gunnison Watershed Property Owners, and people born in the Gunnison Watershed (Watershed legacies). A handicap of 1.5 seconds +/- added after 2nd steer (#10 team=no seconds). Places paid & prizes based on the number of entries.
USTRC dress code applies (This means Western hat, button-up collared shirt, no short sleeves).
Outside steers will be used this year for Watershed and the Open Cattlemen's Days Jackpot.
Prizes & money will be awarded Wednesday night at the conclusion of the roping. The top 5 Watershed teams will qualify to rope during the Friday night Cattlemen's Days PRCA performance for the Watershed Champion saddles.
Sponsored by Lacy Construction, Ltd.
1 head/no handicap/fastest on 1 head. (Due to PRCA rules, any team that also drew up in the PRCA performance for Friday night will have to choose their Watershed run or PRCA performance run as 2 runs in the same performance is not allowed. The next qualifying team will be substituted for any team(s) that draw out of the Watershed saddle roping).
Enter at:
KC BARBER
302 N. Main Street, Gunnison, CO 81230
— or —
O'HAYRE DAWSON, P.C.
120 N. Taylor Street
(Corner of Taylor & Virginia)
GUNNISON, CO 81230
8-5 M-F
Call 970-596-5329 with any questions.
JULY  1st and 2nd - Cattlemen's Days TETWP Songwriter Shuffle
JULY 3rd - Open Horse Show
JULY 4th - TETWP Concert at I-Bar
JULY 2nd - 9th - 4-H Shows
JULY 10th - Buyers BBQ, Scholarship, 4H Auction
JULY 11th - Mutton Busting & Ranch Rodeo
JULY 12th - 14th - Watershed Events
Ranch Rodeo, Ranch Team Sort,
Barrel Races, Team Roping
JULY 14th - Pioneer Banquet at the Elks Lodge
JULY 14th - 17th - Carnival
JULY 15th - PRCA #1 TETWP Rodeo
JULY 16th - PRCA Patriot Night Rodeo
JULY 17th - Cattlemen's Days Parade, PRCA Gunnison Ranchland Legacy Rodeo, Dance at the Elks Lodge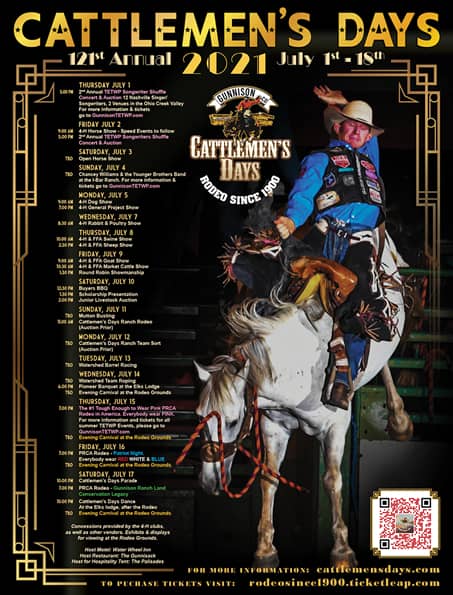 Drop Us a Line
Don't be shy. Let us know if you have any questions!