Cattlemen's Days

2023 PRCA RODEO
July 13th, 14th, 15th, 2023
123 Years Strong. Cattlemen's Days celebrates the Cowboy in Us All!  Each July, the ranching culture of the Gunnison Valley struts its stuff in the "Granddaddy of Colorado Rodeos," an event staged by the community for PRCA competitors and the people who love to watch them.
Schedule
Tickets
Keeping Tradition Alive
The Best "Small Town-Big Time" Rodeo
After 123 years of Gunnison Cattlemen's Days Rodeo, we keep bucking roping and riding, celebrating the long- kept traditions of ranching, and the western way of life in the Gunnison Valley. Known as the granddaddy of Colorado Rodeos, our Cattlemen's Days Committee, community, volunteers, athletes, and livestock are proud to welcome you to the 2023 Cattlemen's Days celebration! This year's theme is "The Cowboy in Us All".
Gunnison Cattlemen's Days is the best "small town-big time" rodeo with the #1 Tough Enough to Wear Pink (TETWP) Rodeo in the PRCA. TETWP has been part of the Gunnison Valley for 18 years now, each year adding meaning to "small town-big time". Through our events and concerts, the big-time talent and unmatched community support, Gunnison TETWP is a one-of-a-kind organization, comparable to few programs around the world. Thank you for helping us bring comprehensive cancer support to this community, including, education, prevention, financial assistance, and a long list of patient support programs- not just for breast cancer, but for all cancers.
One tradition over the years that Cattlemen's Days proudly upholds are the awards of college and youth scholarships, encouraging students in their pursuits, and honoring the next generation that keeps our ranching traditions alive.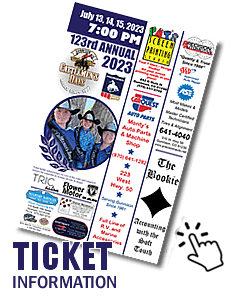 Check out YOUR rodeo this year on the "Hometown Rodeo" series on the Cowboy Channel, featuring the top cowboys, cowgirls, stock, and specialty acts in the PRCA.  123 years of rodeo would not be possible without our hundreds of volunteers that make every event a success to add to our history. Our hats go off to all of them in heartfelt thanks!
Keep the traditions alive! Let's Rodeo Gunnison!
Mike Dawson
President
Gunnison Cattlemen's Days Committee
2022 Cattlemen's Days
Parade Marshals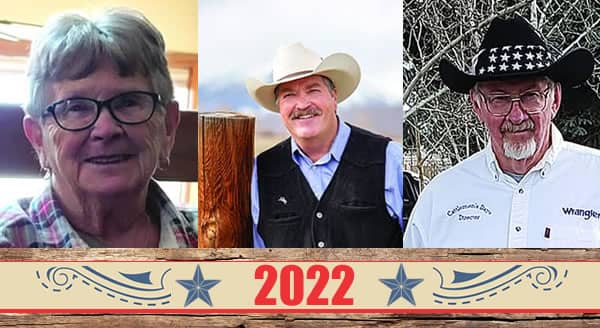 Linda Gazzoli, Matt Robbins, and Steve Williams
Cattlemen's Days, a Rich Gunnison Valley Tradition
The rodeo started out in the 1800's between spring calving and summer haying, a time when area ranchers took a break to test their skills with riding and roping contests on Main Street. In the early years, the event added horse races and tried out various names such as Pioneer Days and the Helldorado Stampede. By 1901, the celebration came under the sponsorship of the Gunnison Valley Stockgrowers Association and the rodeo officially adopted the name "Cattlemen's Days."
Between 1913 and 1928, the rodeo and race events moved to the campus of Colorado Normal School, now Western State Colorado University, using the school's track and stands. The celebration moved back downtown from 1929 to 1936. When the Cattlemen's Days Association was created, it built facilities at the current site.
Check out the Gunnison County Library's archive of Cattlemen's Days memorabilia.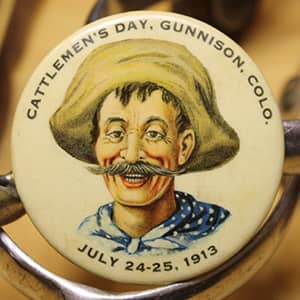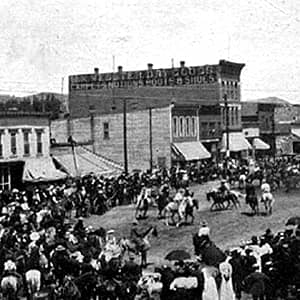 Cattlemen's Days
The Granddaddy of Colorado Rodeos
By Doug and Mary Lou Nemanic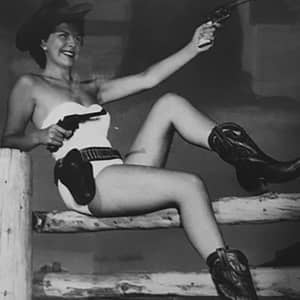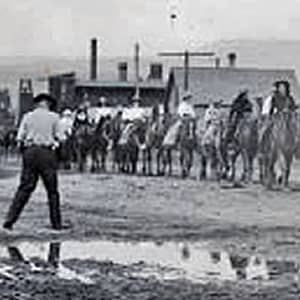 What's Your Cattlemen's Days Story?
Cattlemen's Days has been a big part of Gunnison heritage for over 120 years.  We are looking for historical photos, videos, and personal recollections of past Cattlemen's Days events to feature on this website and social media.  There is so much to share! Were you in the parade?  Did you or your kids participate in 4-H events?  Did you watch a friend get bucked off in mutton bustin' or a bull ride?  We want to hear about it! Use our contact form to share your story.
JULY 4th - TETWP Pinkapalooza Concert at I-Bar
JULY 6th - TETWP Songwriter Shuffle Concert
JULY 7th - 4-H Horse Show
JULY 8th - Ranch Rodeo (auction prior)
JULY 9th - Open Horse Show
JULY 10th - 4-H Dog Show, 4-H General Projects Awards Review
JULY 10th - Cowboy Poetry at the I-Bar
JULY 11th - 15th - 4-H General Projects displayed at Fairgrounds
JULY 11th - Watershed Barrel Races
JULY 12th - 4-H Rabbit Show
JULY 12th - Watershed Team Roping
JULY 12th - 15th - Evening Carnival
JULY 12th - Pioneer Banquet at the Elks Lodge
JULY 13th - PRCA Rodeo Slack
JULY 13th - 4-H & FFA Swine Show
JULY 13th - 4-H & FFA Sheep Show
JULY 13th - PRCA #1 TETWP Rodeo
JULY 13th - Parking Lot Party at 5B's Barbeque - Live Music
JULY 14th - 4-H & FFA Goat Show
JULY 14th - 4-H & FFA Cattle Show
JULY 14th - 4-H & FFA Round Robin Showmanship
JULY 14th - PRCA Patriot Night Rodeo
JULY 15th - Cattlemen's Days Parade
JULY 15th - Buyers BBQ, Scholarship, Cattlemen's Junior Livestock Auction
JULY 15th - PRCA Gunnison Ranchland Legacy Rodeo
JULY 16th - Cowboy  Church at the Fairgrounds