Cattlemen's Days Vendor Information

Sell Your Goods at Cattlemen's Days
Please contact us for information about vendors at Cattlemen's Days.
Vendor Committee Chair Sarah Kosin, 970-209-1318.
An online vendor application is below.
Vendors
There are two types of outdoor vendor sites: Full Electric and Non-Electric.
Full Electric Site
$325 to $350 depending on the type of electric outlet(s)
Additional outlets may be purchased for an extra charge
Non-Electric Site
Camping Spaces
Camping spaces may be reserved by contacting us.
Agreements will be issued once your inquiry is received.
Past vendors will be considered first.  New vendors will be put on a waiting list.
Fees must be mailed to P.O. Box 1203, Gunnison, CO 81230.
Sites are reserved once payment has been received.
Cattlemen's Days Vendor Rules and Regulations (PDF) Coming Soon!

Vendor Map (PDF)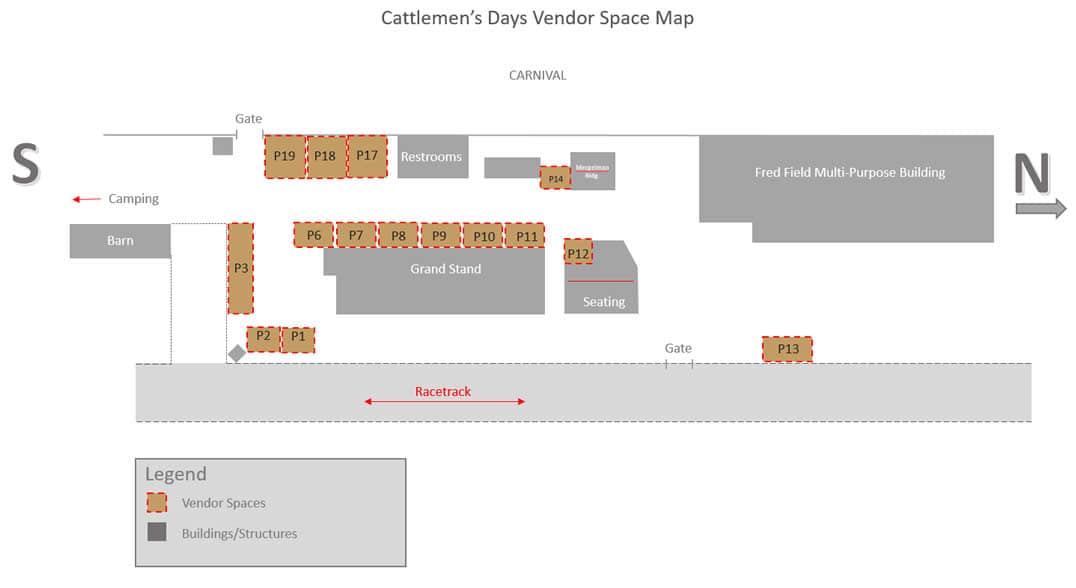 Online Vendor Application
If you are interested in becoming a Cattlemen's Days Vendor, please fill in the form below and our committee will contact you to finalize your application.
JULY 4th - TETWP Pinkapalooza Concert at I-Bar
JULY 6th - TETWP Songwriter Shuffle Concert
JULY 7th - 4-H Horse Show
JULY 8th - Ranch Rodeo (auction prior)
JULY 9th - Open Horse Show
JULY 10th - 4-H Dog Show, 4-H General Projects Awards Review
JULY 10th - Cowboy Poetry at the I-Bar
JULY 11th - 15th - 4-H General Projects displayed at Fairgrounds
JULY 11th - Watershed Barrel Races
JULY 12th - 4-H Rabbit Show
JULY 12th - Watershed Team Roping
JULY 12th - 15th - Evening Carnival
JULY 12th - Pioneer Banquet at the Elks Lodge
JULY 13th - PRCA Rodeo Slack
JULY 13th - 4-H & FFA Swine Show
JULY 13th - 4-H & FFA Sheep Show
JULY 13th - PRCA #1 TETWP Rodeo
JULY 13th - Parking Lot Party at 5B's Barbeque - Live Music
JULY 14th - 4-H & FFA Goat Show
JULY 14th - 4-H & FFA Cattle Show
JULY 14th - 4-H & FFA Round Robin Showmanship
JULY 14th - PRCA Patriot Night Rodeo
JULY 15th - Cattlemen's Days Parade
JULY 15th - Buyers BBQ, Scholarship, Cattlemen's Junior Livestock Auction
JULY 15th - PRCA Gunnison Ranchland Legacy Rodeo
JULY 16th - Cowboy  Church at the Fairgrounds