2021 Cattlemen's Days
Event Schedule
Let's Rodeo!
The Rodeo Committee is working hard on planning the events and getting all necessary approvals. These are the tentative dates.  More information and details will follow.  We are looking forward to continuing the 121 year Cattlemen's Days Rodeo tradition!
All events are open to the public.
Scheduled Events may change.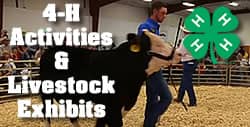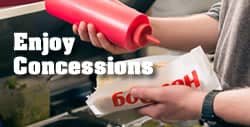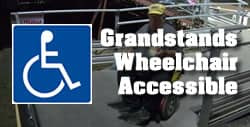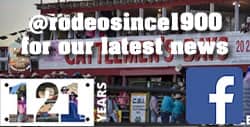 JULY  1st and 2nd - Cattlemen's Days TETWP Songwriter Shuffle
JULY 3rd - Open Horse Show
JULY 4th - TETWP Concert at I-Bar
JULY 2nd - 9th - 4-H Shows
JULY 10th - Buyers BBQ, Scholarship, 4H Auction
JULY 11th - Mutton Busting & Ranch Rodeo
JULY 12th - 14th - Watershed Events
Ranch Rodeo, Ranch Team Sort,
Barrel Races, Team Roping
JULY 14th - Pioneer Banquet at the Elks Lodge
JULY 14th - 17th - Carnival
JULY 15th - PRCA #1 TETWP Rodeo
JULY 16th - PRCA Patriot Night Rodeo
JULY 17th - Cattlemen's Days Parade, PRCA Gunnison Ranchland Legacy Rodeo, Dance at the Elks Lodge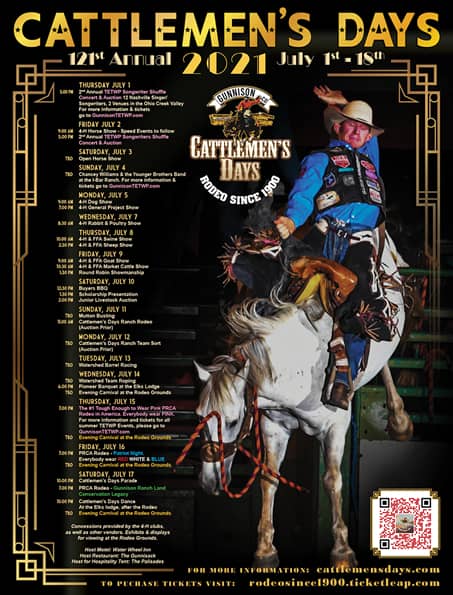 Drop Us a Line
Don't be shy. Let us know if you have any questions!