Cattlemen's Days Sponsors

Sponsors make Cattlemen's Days Possible.

Cattlemen's Days gratefully acknowledges our generous sponsors
If you would like to become a sponsor, please review our Sponsorship Opportunities Page.
Presenting Sponsors
Thursday, July 11th – TETWP
Presented by: Dos Rios Golf Club
Friday, July 12th – Patriot Night
Presented by: Gunnison County Abstract Co.
Saturday, July 13th – Gunnison Ranchland Conservation Legacy
Presented by: Western Lumber
Host Hotel
The Gunnison Inn at Dos Rios
For the best night's sleep in Gunnison, stay at the Gunnison Inn at Dos Rios!
W. Hwy. 50 | 970-641-1650
Host Restaurant
The Gunnisack Cowboy Bistro
The Gunnison Valleys People's Choice for the best burgers and chicken fried steaks!
142 N. Main | 970-641-5445
Cowboy Hospitality Tent Sponsor
Palisades Restaurant
Scoreboard Sponsors
Top: Gene Taylor's Sporting Goods
Side: Western Colorado University
Side: Buff's Collision Specialists
Video Timing Board
Miller Furniture
Video Board Sponsor
Gunnison Ranchland Legacy
Gold Buckle Booth Sponsors
Berkshire Hathaway Home Services / Today Realty and Associates
Crossbar Ranch
Gunnison Country Times
Holden Village / Two Miles Property
Mountain Fireplace
O'Hayre, Dawson & Norris, P.C.
Pike Builders, Inc.
Professional Contractors, Inc. / Rocky Mountain Vet Services
Wet Grocer
Specialty Sponsors
Specialty Act: Gunnison County Abstract
Barrel Man: Tomich Management, LLC
Announcer: CorVive Colorado
PRCA Rodeo Event Sponsors
Bareback Riding: Gene Taylors Sporting Goods
Tie Down Roping: Gunnison Materials
Barrel Racing: Hitch & Stitch Custom Embroidery
Bull Riding: Wet Grocer
Team Roping: Double Heart Ranch
Saddle Bronc Riding: Ray's Trucking & Backhoe
Steer Wrestling: Castleton Ranch
Bucking Chute Sponsors
Alpine Title Company
Gunnison Country Times
Gunnison Savings & Loan
Gunnison Valley Health
Lacy Construction
Turquoise Junction/The Gun Room
Center Return Sponsors
CSI, Concrete Systems, Inc.
Spallone Construction
Horse Show and Watershed Events Sponsors
Please see
Open Horse Show Sponsor
---
OVERALL HIGH POINT AWARD SPONSORS
HOLLENBECK MEMORIAL 8 & UNDER
Honoring Mildred & Son Gene
9-13 VICKERS RANCH
14-17 LOST MINER RANCH & Equestrian Center, Gaelan McKee
18-25 MILL CREEK RANCH, BURT & SANDRA GUERRIERI
26 & OLDER Dan & Michelle Zadra
OVERALL RESERVE HIGH POINT AWARD SPONSORS
ALL AGES GROUPS
BB Bar Ranch
Kirk & Cathy Buttermore
ALL CLASSES
RIBBONS: CATHY BENSON
HALTER CLASSES TROPHY FRAMES
Sponsor by: Cattlemen's Days Friend
SPEED EVENT HIGH POINT AWARD SPONSOR
Discount Self Storage
Deb & Ken Synder
WESTERN DIVISION HIGH POINT SPONSOR
Dan & Michelle Zadra
TRAIL DIVISION HIGH POINT SPONSOR
Fullmer's Ace Hardware Livestock Supply
ENGLISH DIVISION HIGH POINT SPONSOR
Dan & Michelle Zadra
ALL AROUND SPONSOR
Tractor Supply
High Point Awards
Made by: Ivy McNulty, IM Silver, www.IMSilver.com
Donations
Gunnison Roping Club
Alpengardener
OffCenter Designs
High Elevation Productions Barrel Club
Gunnison County 4-H
IM Silver
Paper Clip

Ranch Rodeo Night, Arena Team Sorting,
Watershed Team Roping,
and Team Roping Jackpot Sponsors
---
TITLE SPONSOR
JC Propane
SPONSORS
Interior Visions
OffCenter deSIGNS & T-Shirts
O'Hayre Dawson, P.C.
Red Mountain Liquors
Rocky Mountain Veterinary
Slo Down Ranch
JULY  1st and 2nd - Cattlemen's Days TETWP Songwriter Shuffle
JULY 3rd - Open Horse Show
JULY 4th - TETWP Concert at I-Bar
JULY 2nd - 9th - 4-H Shows
JULY 10th - Buyers BBQ, Scholarship, 4H Auction
JULY 11th - Ranch Rodeo
JULY 12th - 14th - Watershed Events
Ranch Arena Team Sort,
Barrel Races, Team Roping
JULY 14th - Pioneer Banquet at the Elks Lodge
JULY 14th - 17th - Carnival
JULY 15th - PRCA #1 TETWP Rodeo
JULY 16th - PRCA Patriot Night Rodeo
JULY 17th - Cattlemen's Days Parade, PRCA Gunnison Ranchland Legacy Rodeo, Dance at the Elks Lodge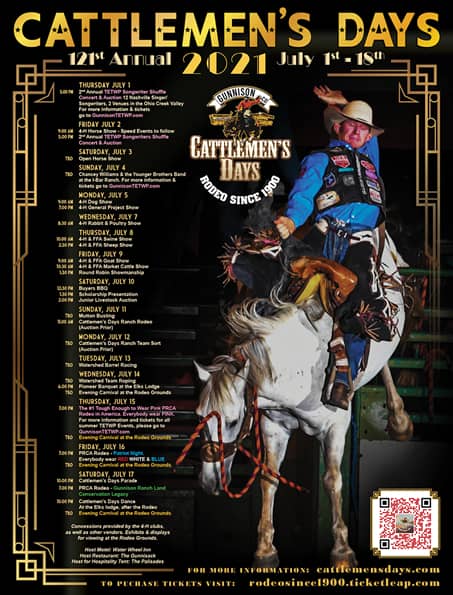 Drop Us a Line
Don't be shy. Let us know if you have any questions!