Cattlemen's Days Sponsors

Sponsors make Cattlemen's Days Possible.

Cattlemen's Days gratefully acknowledges our generous sponsors
If you would like to become a sponsor, please review our Sponsorship Opportunities Page.
Presenting Sponsors
Thursday Rodeo – TETWP
Presented by: Dos Rios Golf Club
Friday Rodeo – Patriot Night
Presented by: Gunnison County Abstract Co.
Saturday Rodeo – Gunnison Ranchland Conservation Legacy
Presented by: Western Lumber
Host Hotels
Days Inn & Suites
Comfort Inn & Suites
The Wingate
Host Restaurant
Palisades Restaurant
Cowboy Hospitality Sponsor
Pike Builders, Inc.
Pizza Mountain (Alamo)
Professional Contractors, Inc.
SGM
Specialty Sponsors
Announcer: B&H Construction
Specialty Act: Gunnison County Abstract
Barrel Man: Miller Furniture
Latigos Up Drill Team: Brush Creek Village
Video Sign Scoreboard Sponsors
Top Shelf: Gene Taylor's Sporting Goods
Side: Western Colorado University
Side: Buff's Collision Specialists
Rough Stock Video Replay
Alpine Lumber
Center Verticals
CSI, Concrete Systems, Inc.
Gold Buckle Booth Sponsors
5B's BBQ
Crossbar Ranch / Trout Creek Engineering / Jennifer Barvitski Architect
Holden Village / Two Miles Property
Jody Reeser Architecture / Blue Valley Carpentry
Mountain Sunrise Specialist / Transamerica Financial Advisors Inc
O'Hayre, Dawson & Norris, P.C.
Pike Builders, Inc.
Professional Contractors, Inc. / Rocky Mountain Vet Services
Wet Grocer
PRCA Veterinarian Sponsor
Rocky Mountain Veterinary Services; Dr. Darby Sullivan, DVM
PRCA Rodeo Event Sponsors
Bareback Riding: Gene Taylors Sporting Goods / Gunnison Sports Outlet
Tie Down: Gunnison Materials
Barrel Racing: Miller Furniture Store
Bull Riding: Wet Grocer
Team Roping Heeler: Hitch & Stitch Custom Embroidery
Team Roping Header: Gunnison Valley Health
Saddle Bronc Riding: Interior Visions
Steer Wrestling: Castleton Ranch
Bucking Chute Sponsors
#1 Turquoise Junction/The Gun Room
#2 Gunnison Savings & Loan
#3 Lacy Construction
#4 Gunnison Valley Health
#5 Alpine Title Company
#6 Gunnison Country Times/Shopper
Center Return Sponsors
Spallone Construction
Program Sponsors
Business Cards
Gunnison Real Estate and Rentals
Pat's Screen Printing
Rick Barton Ministries
Western Lumber, Inc.
Quarter Page Ads
Bay Equity Home Loans
Gunnison Fly Shop
Plotts Mini Storage
Rocky Mountain Veterinary Services, Darby Sullivan

Half Page Ads
Fullmer's Ace Hardware
Gunnison Auto Glass 
KBUT
Full Page Ads
Camp Gunnison
Gunnison Rising (Gunnison Valley Properties)
Gunnison Valley Health
Horse Show and Watershed Events Sponsors

Open Horse Show Sponsors
Hollenbeck Memorial
Lost Miner
Mill Creek Ranch
Zadra Family
BB Bar Ranch
Cathy Benson
Gunnison Barrel Club

Royalty Sponsors

Ranch Rodeo
SPONSORS

JULY 4th - TETWP Pinkapalooza Concert at I-Bar
JULY 6th - TETWP Songwriter Shuffle Concert
JULY 7th - 4-H Horse Show
JULY 8th - Ranch Rodeo (auction prior)
JULY 9th - Open Horse Show
JULY 10th - 4-H Dog Show, 4-H General Projects Awards Review
JULY 10th - Cowboy Poetry at the I-Bar
JULY 11th - 15th - 4-H General Projects displayed at Fairgrounds
JULY 11th - Watershed Barrel Races
JULY 12th - 4-H Rabbit Show
JULY 12th - 15th - Evening Carnival
JULY 12th - Pioneer Banquet at the Elks Lodge
JULY 13th - PRCA Rodeo Slack
JULY 13th - 4-H & FFA Swine Show
JULY 13th - 4-H & FFA Sheep Show
JULY 13th - PRCA #1 TETWP Rodeo
JULY 13th - Parking Lot Party at 5B's Barbeque - Live Music
JULY 14th - 4-H & FFA Goat Show
JULY 14th - 4-H & FFA Cattle Show
JULY 14th - 4-H & FFA Round Robin Showmanship
JULY 14th - PRCA Patriot Night Rodeo
JULY 15th - Cattlemen's Days Parade
JULY 15th - Buyers BBQ, Scholarship, Cattlemen's Junior Livestock Auction
JULY 15th - PRCA Gunnison Ranchland Legacy Rodeo
JULY 16th - Cowboy  Church at the Fairgrounds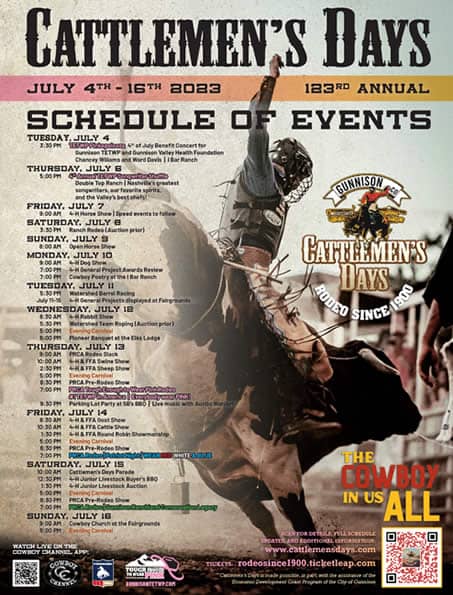 Drop Us a Line
Don't be shy. Let us know if you have any questions!