Cattlemen's Days Sponsors

Sponsors make Cattlemen's Days Possible.

Cattlemen's Days gratefully acknowledges our generous sponsors
If you would like to become a sponsor, please review our Sponsorship Opportunities Page.
Horse Show and Watershed Events Sponsors
Please see
Open Horse Show Sponsor
---
OVERALL HIGH POINT AWARD SPONSORS
HOLLENBECK MEMORIAL 8 & UNDER
Honoring Mildred & Son Gene
9-13 VICKERS RANCH
14-17 LOST MINER RANCH & Equestrian Center, Gaelan McKee
18-25 MILL CREEK RANCH, BURT & SANDRA GUERRIERI
26 & OLDER Dan & Michelle Zadra
OVERALL RESERVE HIGH POINT AWARD SPONSORS
ALL AGES GROUPS
BB Bar Ranch
Kirk & Cathy Buttermore
ALL CLASSES
RIBBONS: CATHY BENSON
HALTER CLASSES TROPHY FRAMES
Sponsor by: Cattlemen's Days Friend
SPEED EVENT HIGH POINT AWARD SPONSOR
Discount Self Storage
Deb & Ken Synder
WESTERN DIVISION HIGH POINT SPONSOR
Dan & Michelle Zadra
TRAIL DIVISION HIGH POINT SPONSOR
Fullmer's Ace Hardware Livestock Supply
ENGLISH DIVISION HIGH POINT SPONSOR
Dan & Michelle Zadra
High Point Awards
Made by: Ivy McNulty, IM Silver, www.IMSilver.com
Donations
Gunnison Roping Club
Alpengardener
OffCenter Designs
High Elevation Productions Barrel Club
Gunnison County 4-H
IM Silver
Paper Clip

Ranch Rodeo Night, Arena Team Sorting,
Watershed Team Roping,
and Team Roping Jackpot Sponsors
---
Gunnison Roping Club, Inc.
Loop Cattle Company
Colorado Adventure Rentals
Community Banks of Colorado
Gunnison Shipping
JC Propane
Kirk Buttermore
Lacy Construction
OffCenter deSIGNS & T-Shirts
O'Hayre Dawson, P.C.
PCI Contractors, Inc.
Red Mountain Liquors
Stock Contractor: Open Heart Ranch
JULY  1st and 2nd - Cattlemen's Days TETWP Songwriter Shuffle
JULY 3rd - Open Horse Show
JULY 4th - TETWP Concert at I-Bar
JULY 2nd - 9th - 4-H Shows
JULY 10th - Buyers BBQ, Scholarship, 4H Auction
JULY 11th - Mutton Busting & Ranch Rodeo
JULY 12th - 14th - Watershed Events
Ranch Rodeo, Ranch Team Sort,
Barrel Races, Team Roping
JULY 14th - Pioneer Banquet at the Elks Lodge
JULY 14th - 17th - Carnival
JULY 15th - PRCA #1 TETWP Rodeo
JULY 16th - PRCA Patriot Night Rodeo
JULY 17th - Cattlemen's Days Parade, PRCA Gunnison Ranchland Legacy Rodeo, Dance at the Elks Lodge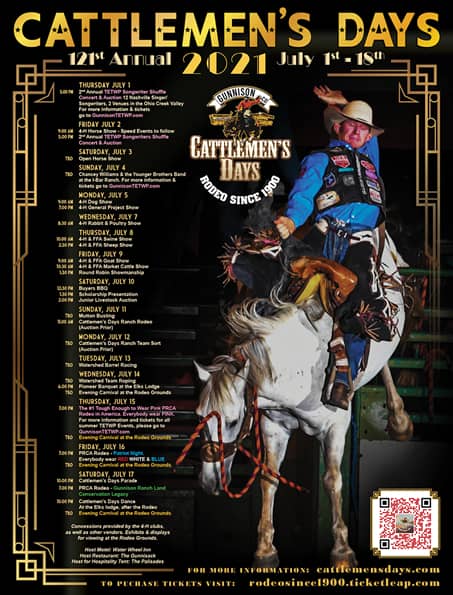 Drop Us a Line
Don't be shy. Let us know if you have any questions!