Cattlemen's Days Visiting Royalty
2022 Cattlemen's Days Visiting Royalty
Hello Ladies,
We are so excited that you want to attend our rodeo! Please fill out this form and it will be sent to our royalty coordinator so she can pass it on to our announcer. If you have any questions, please call Ivy McNulty, Coordinator, at 970-275-0043 or email her at royalty@cattlemensdays.com. We look forward to seeing you!
JULY  1st and 2nd - Cattlemen's Days TETWP Songwriter Shuffle
JULY 3rd - Open Horse Show
JULY 4th - TETWP Concert at I-Bar
JULY 2nd - 9th - 4-H Shows
JULY 10th - Buyers BBQ, Scholarship, 4H Auction
JULY 11th - Ranch Rodeo
JULY 12th - 14th - Watershed Events
Ranch Arena Team Sort,
Barrel Races, Team Roping
JULY 14th - Pioneer Banquet at the Elks Lodge
JULY 14th - 17th - Carnival
JULY 15th - PRCA #1 TETWP Rodeo
JULY 16th - PRCA Patriot Night Rodeo
JULY 17th - Cattlemen's Days Parade, PRCA Gunnison Ranchland Legacy Rodeo, Dance at the Elks Lodge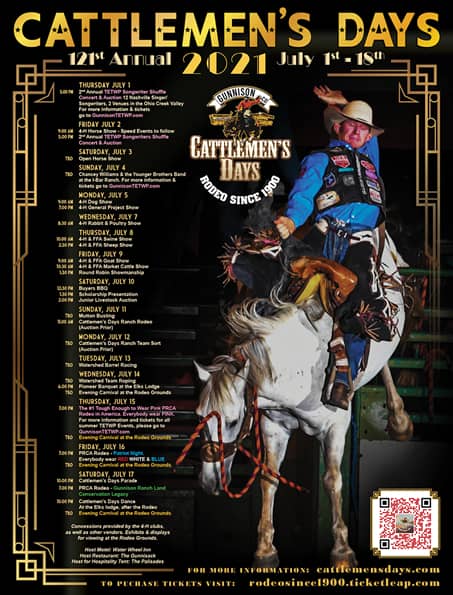 Drop Us a Line
Don't be shy. Let us know if you have any questions!