Cattlemen's Days Parade Marshals

2021 Parade Marshals
Jack Steenbergen and C.J. Miller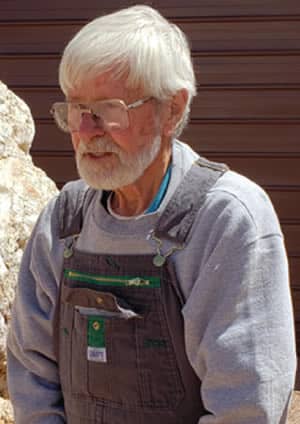 2021 Cattlemen's Days Parade Marshal
C.J. Miller
C.J. Miller
C.J. Miller is quick to smile and has been a big part of the Gunnison Valley for life. C.J.'s grandfather had a furniture store in Crested Butte at the turn of the century, later the business was taken over by his father Louie Miller and moved to Gunnison. Louie added a mortuary business to his profile.
C.J. and his wife Anne took the reins of the two businesses in 1980 and he  served as coroner for Gunnison County for thirty-nine years. He sold Miller's Funeral Service in 2002 and sold Miller's Furniture recently.
C.J. has not stopped; he is curator for the Pioneer Museum in his "retirement". He has nurtured that centerpiece of the Gunnison area for twenty years. Painting, fi xing, arranging displays and now, due to macular degeneration, he has relinquished some of that work to a couple of helpers who love him dearly. His grand contribution to the museum is the huge antique car display. There are over seventy cars and trucks. The facility also sports one of the fi rst motor graders the county ever had, a school house and narrow gauge train to list a few displays.
Dear to him too, is a collection of ranching and Cattlemen's Days Memorabilia. There are old, sweat-stained cowboy hats worn by those who settled this valley, spurs worn by serious young cowboys, chaps, buggies, wagons and old hay machinery to name only a few of the things he and others have collected. It is a true representation of the West. The old horseracing starting gate is on the grounds too.
Asked about his direct connection to  Cattlemen's Days, he said his family owned the ambulance service and the committee would trade them tickets to be at every rodeo with the ambulance. C.J.'s connection to this entire county runs as deep and as broad as the Gunnison Valley. He has held the hands of the grieving and taken the bull by the horns to make Pioneer one of the best displays of history in Colorado. He is beloved.
2021 Cattlemen's Days Parade Marshal
Jack Steenbergen
Jack Steenbergen
Jack Steenbergen, when asked by a prospective employer if he could drive a team he replied, "I can herd six, drive four and put two in the mailbox!" Jack learned to drive a team at a young age on his parents' ranches, first on Stueben Creek, his grandmothers' homestead and then he eventually ran the Razor Creek ranch east of Gunnison in 1960 for 12 years. Jack then moved back to Stueben Creek where he and his brother Don ranched. Being a cowboy wasn't always steady income and holding onto your own place is always a challenge as beef prices, weather and buyers set the tone, so his skills took him to many different places for work.
As one of the Cattlemen's Days Former presidents in 1976 & 1977 he has seen much of what rodeo has to offer and he has ridden the bareback broncs, bucking high in the air. He won the Watershed Bareback riding in 1965 and was an avid team roper with the local roping club.
Jack's memories are many and most liven up his eyes as he thinks back on his life in the saddle or on a horse-drawn rake. He speaks of haying with a two-horse team that pulled the mower and the rake. Unlike the large ranches of today, many of the early ranches were smaller acreages, so it was not inconceivable that they could put up all their hay in just a week or less weather permitting. Along with that however, their margins were thin from make or break.
Jack ended up eventually in Las Vegas and met his wife Betty who worked for the Bureau of Reclamation there. The two of them now reside in Montrose, where his son George runs a few head of cattle. Jack spends as much time as he can helping his son with his small herd and staying connected to his heritage. He enjoys the work and being around the cattle where he has always been. It is something that is in his blood, passed on through the generations that taught him what he knows.
JULY 4th - TETWP Pinkapalooza Concert at I-Bar
JULY 7th - TETWP Songwriter Shuffle Concert
JULY 8th - 4-H Horse Show
JULY 10th - Open Horse Show
JULY 10th - Ranch Rodeo (auction prior)
JULY 11th - Cattlemen's Days Ranch Team Sort
(auction prior)
JULY 11th - Cowboy Poetry at the I-Bar
JULY 11th - 15th - 4-H Shows and Displays
JULY 12th - Watershed Barrel Races
JULY 13th - Watershed Team Roping
JULY 13th - 16th - Carnival
JULY 14th - PRCA #1 TETWP Rodeo
JULY 15th - PRCA Patriot Night Rodeo
JULY 16th - Cattlemen's Days Parade
JULY 16th - Buyers BBQ, Scholarship, 4H Auction
JULY 16th - PRCA Gunnison Ranchland Legacy Rodeo
JULY 17th - Cowboy Church