Cattlemen's Days Parade Marshals

2023 Parade Marshals
Joe Dixon and Dave McLain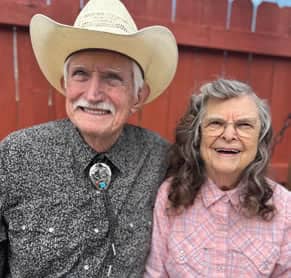 2023 Cattlemen's Days Parade Marshal
Joe & Pamela Dixon
Joe Dixon
While traveling through the Gunnison area in 1972 Joe Dixon's car broke down on Monarch Pass, so he and his wife Pamela were forced to go back to Gunnison where they had celebrated their tenth anniversary.
They liked Gunnison a lot, so they moved from Denver. Living through their first winter experience here they almost went back to Denver, but instead planted deep roots here. Joe was born in Little Rock, Arkansas. He lived with his grandparents when his dad was in the army and later moved to Denver. His mother was a Doctor of Nursing and taught school in Texas where his love for rodeo came to him. Joe went to business college and attended both Colorado and Denver Universities along with Western State College. He worked on the Titan 2 and 3 missiles for Martin Marietta and the Air Force. He garnered several awards for excellence from the Air Force. Pam became the senior real estate appraiser for Gunnison County, a job she had for 27 years. The two of them have many talents.
Seeing the increase in the use of home electronics led Joe to go to night school for five years to learn about them. From there he went into the repair business in Gunnison. In 1975 Joe started putting in a new sound system for Cattlemen's Days Rodeo and Livestock Show and was offered committee membership for helping them out because they didn't have the money in those days to pay him. His working relationship with the committee became an enduring commitment and he has been a member for nearly 30 years.
He is quick to say he has had tremendous help from other committee members over the years digging ditches for wiring and stringing wire. Joe has, since 1994 had a business providing event tents and the folks from the committee that helped him dig ditches have always helped him set up the tents for Cowboy Hospitality, beverage, Tough Enough to Wear Pink, and injury diagnostics for the cowboys.
One of the most loved events during Cattlemen's Days is Cowboy Poetry that Joe Dixon continued with the help of Mark Todd, a creative writing professor at Western Colorado University. Today, renowned local singers/songwriters Evelyn Roper and Chris Coady work with Joe to put on the cowboy poetry, and they entertain that same evening. Brian Wikenhauser donates the use of the I-Bar for the event each year.
Joe also helps put on the national anthem program at each rodeo and he is proud of that as well as his entire relationship with Cattlemen's Days. He has worked with the ticket end of things, grandstand, National Anthem program, and the Cowboy Poetry. He is always there if you need anything.
At the time Joe was first setting up a new sound system for Cattlemen's Days he worked with Rodeo Hall of Fame announcer and personality Charles "Bud" Townsend a Texas history professor and an inductee of the Rodeo Hall of Fame. Joe enjoyed working with him to bring first class sound to the rodeo events.
"I am proud of being a director and brag about the family of directors; we are the best there is. We all got behind the Tough Enough to Wear Pink Program which is the largest fundraiser for Breast Cancer in the nation". Joe commends the differences and special talents of each member of the committee that collectively come together to put on a great show. "Experience is our greatest tool, and I can't say enough about how much I love my job working with this great family. I will be 82 and married 61 years this July." It has been a long time since they came here for their tenth anniversary. They have five children, seven grand and six great-grandchildren. We are glad they stayed.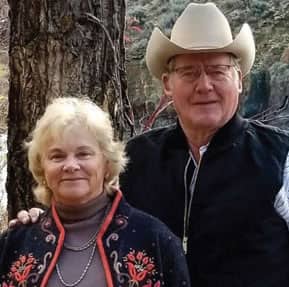 2023 Cattlemen's Days Parade Marshal
LaDonna & Dave McLain

Dave McLain
Behind every great person is a great partner and the McLains exemplify that. David and LaDonna have been married fifty-three years and were friends ten years before that. The two of them understand each other, look after each other, and are quite obviously still much in love.
David and LaDonna are the 4th of 7 generations in the Gunnison area. David's Great Grandfather Alexander McLain moved to the Quartz Creek Valley in 1879 as a miner and then a rancher. The current McLain ranch was established in 1908 by JJ McLain, David's Grandfather. They were so lucky to have the Denver South Park and Pacific Railroad run thru the meadows in the early days from the Alpine Tunnel for transportation.
As most ranching families, the McLain's had to utilize their other talents to supplement their ranching endeavors. David is the son of Jack and Louise McLain and was born on the family ranch along with brother Carl McLain and Nancy (Crawford) McLain. David became a hunting guide, logged for use in their sawmill, and built log homes, that was a side business that the family enjoyed building homes, bridges, moving homes, or any other project we could come up with!
Jack and Louise purchased the ranch in 1952 and David and LaDonna purchased the family ranch in 1988. Ranching for the McLain's involved calving, cattle management, haying, irrigating, machinery maintenance, and wildlife compatibility.
LaDonna, daughter of Billy Joe and Virginia Lamberson was raised in the Quartz Creek valley. LaDonna and her parents owned and operated the Sportsman's Resort in Ohio City and Western Plumbing and Heating in Gunnison. David started school in Ohio City, and both David and LaDonna graduated from Gunnison High School. They started their family in 1971 on the family ranch. Teri (Haus), Justin, and Lorie (Fuller)were born and raised on the family ranch and graduated from Gunnison High School as well. They were involved in the activities of ranching including moving cattle from the ranch to Taylor Park for the summer.
They irrigated, helped hay, and milked cows. They also help at night during calving. David and his family expanded the irrigation of the land, the cattle production, expanded the hay meadows, building upgrades, and the restoration and sustainability on the family ranch.
Justin and Merdeth Mclain are current activity owners of the McLain Ranch with help from daughters Katelin, and Marisa. They help irrigate, move cattle from the ranch to Taylor Park by horseback, and they enjoy helping with the haying.
The McLains enjoyed participating in the Quartz Creek Improvement Association since 1965. Being part of the Taylor Park Cattle Association. David served on the Gunnison School Board for several years. David is a member of the Gunnison Stockgrowers Association. He was awarded an honorary lifetime membership in 2022. Also, they are both members of Pioneer Museum.
The McLain's used to have pig roasts and invited the valley. That was hard work and also fun to see the neighbors new and old.
LaDonna is a member of Gunnison Valley Cattlewomen for over 5O years dealing with the promotion of the cattle industry. She enjoys cooking for the ranch crew. And enjoyed riding horses with her family moving cattle. Now that they live closer to town, she enjoys making quilts. Planting and harvesting the garden and visiting with neighbors.
Cattlemen's Days is proud to select David and LaDonna McLain as our 123rd Cattlemen's Day Grand Marshall. Pioneers of the Gunnison Valley.
JULY 4th - TETWP Pinkapalooza Concert at I-Bar
JULY 6th - TETWP Songwriter Shuffle Concert
JULY 7th - 4-H Horse Show
JULY 8th - Ranch Rodeo (auction prior)
JULY 9th - Open Horse Show
JULY 10th - 4-H Dog Show, 4-H General Projects Awards Review
JULY 10th - Cowboy Poetry at the I-Bar
JULY 11th - 15th - 4-H General Projects displayed at Fairgrounds
JULY 11th - Watershed Barrel Races
JULY 12th - 4-H Rabbit Show
JULY 12th - 15th - Evening Carnival
JULY 12th - Pioneer Banquet at the Elks Lodge
JULY 13th - PRCA Rodeo Slack
JULY 13th - 4-H & FFA Swine Show
JULY 13th - 4-H & FFA Sheep Show
JULY 13th - PRCA #1 TETWP Rodeo
JULY 13th - Parking Lot Party at 5B's Barbeque - Live Music
JULY 14th - 4-H & FFA Goat Show
JULY 14th - 4-H & FFA Cattle Show
JULY 14th - 4-H & FFA Round Robin Showmanship
JULY 14th - PRCA Patriot Night Rodeo
JULY 15th - Cattlemen's Days Parade
JULY 15th - Buyers BBQ, Scholarship, Cattlemen's Junior Livestock Auction
JULY 15th - PRCA Gunnison Ranchland Legacy Rodeo
JULY 16th - Cowboy  Church at the Fairgrounds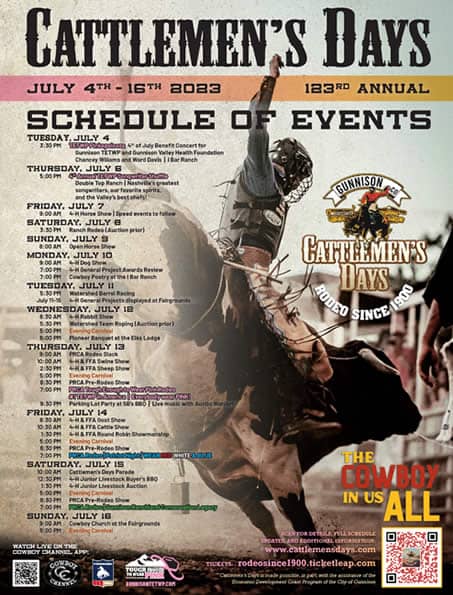 Drop Us a Line
Don't be shy. Let us know if you have any questions!