Cattlemen's Days Ranch Rodeo
Cattlemen's Days Ranch Rodeo

Date:  Sunday, July 11th
Time:  TBA
Place:  Gunnison County Fairgrounds
Team Auction is before the Ranch Rodeo, free to the public
Kids Mutton Bustin' is before the Ranch Rodeo
TEAMS OF 5 RIDERS- ($100/rider ($500/team))
ENTRIES CLOSE  Date TBD
or when maximum teams reached.
MOUNTAIN STATES RANCH RODEO SERIES QUALIFIER
Contestants can compete on only one team unless the maximum entries of 15 teams have not filled by the entry deadline. If the maximum entries have not been reached by entry deadline, the Gunnison Roping Club, Inc., may elect to open the entries to additional teams (which may include already entered contestants but not duplicate teams) 2nd teams will not qualify for the Mountain States Ranch Rodeo Association Series, but will still compete for prizes, jackpot, watershed, and single event money.
Events
Calf Branding
Stray Gather
Trailer Loading
Pen & Doctor
Sort In Order
Forms
Forms Not Available at this Time
Ranch Rodeo Entry Form (PDF)
Ranch Rodeo Rules (PDF)
Ranch Rodeo Flyer (PDF)
Added $$$ & Sponsored by:
Stock Contractor: Open Heart Ranch
Top Watershed Team & Watershed Pot
Top Hand & Top Horse
Loop Cattle Company
Contact
Mike Dawson 970-596-5329, watershedroping@live.com for more info.
JULY  1st and 2nd - Cattlemen's Days TETWP Songwriter Shuffle
JULY 3rd - Open Horse Show
JULY 4th - TETWP Concert at I-Bar
JULY 2nd - 9th - 4-H Shows
JULY 10th - Buyers BBQ, Scholarship, 4H Auction
JULY 11th - Mutton Busting & Ranch Rodeo
JULY 12th - 14th - Watershed Events
Ranch Rodeo, Ranch Team Sort,
Barrel Races, Team Roping
JULY 14th - Pioneer Banquet at the Elks Lodge
JULY 14th - 17th - Carnival
JULY 15th - PRCA #1 TETWP Rodeo
JULY 16th - PRCA Patriot Night Rodeo
JULY 17th - Cattlemen's Days Parade, PRCA Gunnison Ranchland Legacy Rodeo, Dance at the Elks Lodge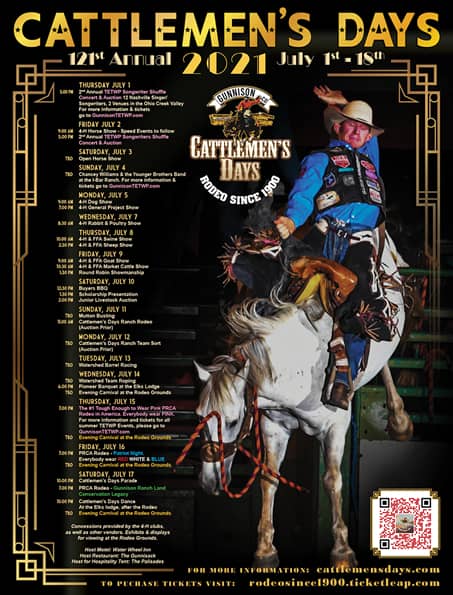 Drop Us a Line
Don't be shy. Let us know if you have any questions!