Gunnison Ranch Arena Sort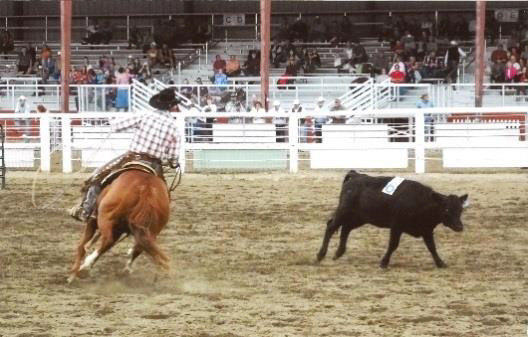 Date: CANCELLED 2022
Times: CANCELLED
Auction: CANCELLED
Youth after the 1st round
Place: Gunnison County Fairgrounds
Free to the Public
ENTRY FEES
$150 per team of 3 riders ($50/rider) PICK ONE TEAM – DRAW ONE TEAM (enter 2x max)
-OR- DRAW ENTRIES ($25/rider) Maximum of 4 rides per individual.
3 MAN – 2 GATE FORMAT, 90 Second limit. Top 10 to short go.
DRAWN TEAMS HAVE WON MONEY FOR THE MAJORITY OF OUR EVENTS SINCE WE'VE STARTED. DRAWED TEAMS ARE EQUALIZED BY THE SORTING PROGRAM… ENTER & HAVE FUN!!!
YOUTH CLASS (<16) $20/youth – Maximum of 2 entries (Picked teams) 100% Payback.
Forms 
Team Arena Sort Entry Form & Waiver (PDF)
MAIL with Entry fees to: Cattlemen's Days, Inc., c/o Michael Dawson, P.O. BOX 179, Gunnison, CO 81230
QUESTIONS 970.596.5329 or email form and wavier to rodeo@cattlemensdays.com and send entry fees to address above.
JULY 4th - TETWP Pinkapalooza Concert at I-Bar
JULY 6th - TETWP Songwriter Shuffle Concert
JULY 7th - 4-H Horse Show
JULY 9th - Open Horse Show
JULY 9th - Ranch Rodeo (auction prior)
JULY 10th - 15th - 4-H Shows and Displays
JULY 10th - Cowboy Poetry at the I-Bar
JULY 10th - Ranch Team Sort (auction prior)
JULY 11th - Watershed Barrel Races
JULY 12th - Watershed Team Roping
JULY 13th - 16th - Carnival
JULY 13th - PRCA #1 TETWP Rodeo
JULY 14th - PRCA Patriot Night Rodeo
JULY 15th - Cattlemen's Days Parade
JULY 15th - Buyers BBQ, Scholarship, Cattlemen's Junior Livestock Auction
JULY 15th - PRCA Gunnison Ranchland Legacy Rodeo