Cattlemen's Days
2021 Royalty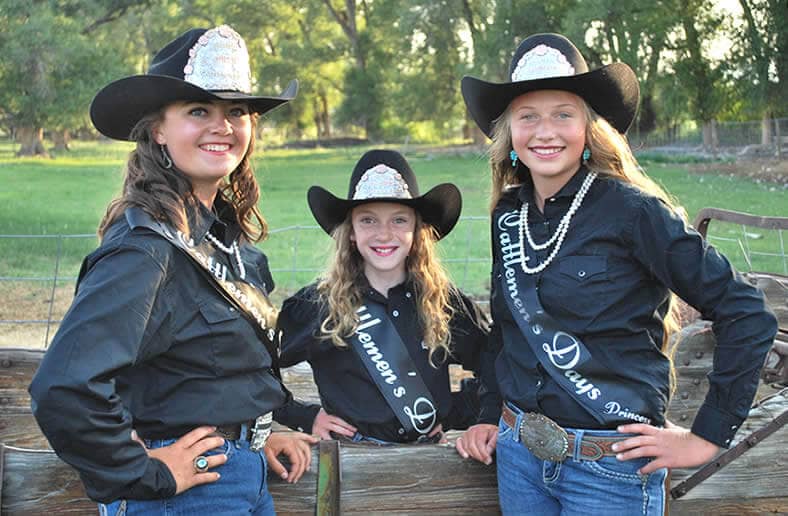 2021 Royalty
Queen Clara Cranor, Jr. Miss Genevieve Williams, and Princess Aspen McNulty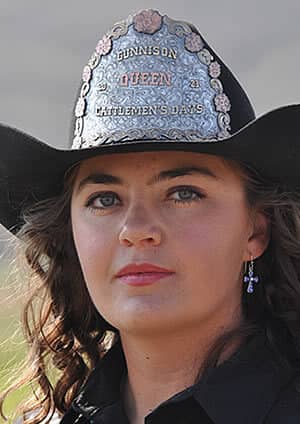 Queen
Clara Cranor
Hello and welcome to the 121st Cattlemen's Days! I hope you enjoy the celebration as much as I do. My name is Clara Cranor, and I am the daughter of Walter and Margaret Cranor. I am very honored and excited to be the 2021 Cattlemen's Queen and represent my beautiful hometown of Gunnison.
I graduated this spring from Norwich University in Vermont where I earned a bachelor's in computer science with a minor in Mathematics. Additionally, I was the NU Corps of Cadet Cavalry Troop Cadet First sergeant my junior year and Cadet Company Commander my senior year. This summer along with being the Cattlemen's Days Queen I am also working full time and helping my father on our ranch. Following the conclusion of my reign in the fall I plan to join the United States Army and fly helicopters as a Warrant Officer.
Agriculture has always been a large part of my life having grown up on a cattle ranch here in the Gunnison Valley. I have grown a love for agriculture through helping my family with our ranch and 4-H. Much like my sister the 2016 Cattlemen's Days Queen, it started with "helping" my dad feed the cows. During my time in 4-H I did a myriad of general projects but mostly I focused on livestock projects such as horses and sheep. This love for agriculture will continue for the rest of my life, but will never outshine my love for my family. I would like to thank my whole family (I am the youngest of five) for their continuous support.
Having grown up in Gunnison, I was able to do many unique things such as: try to teach my first horse how to jump in our front pasture, walking my market lambs down the road where they made friends with the neighbor's horses, driving a mile down the road to ski, or spending a Monday or Thursday evening square dancing with my dad and siblings. I also enjoy drawing, painting, coding, swimming, and working with various horses.
I have many people to thank. I would first like to recognize the men and women who are serving our great country – especially my sister, LCDR Rebekah Cranor, and my brother, 1st Lt Timothy Cranor. Secondly, I want to thank everyone who has supported Cattlemen's Days through these trying times and allowing us to keep going, you prove that nothing can keep us down when we come together, I can't wait to see you all during the rodeo!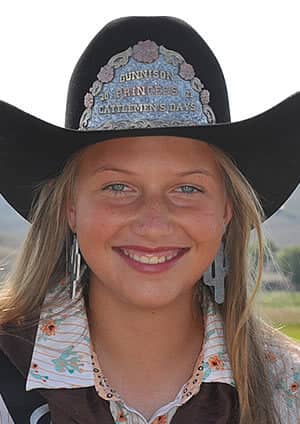 Princess
Aspen McNulty
Hi, my name is Aspen McNulty, I am the 2021 Gunnison Cattlemen's Days Princess.  I am 14 years old and have lived in Gunnison my whole life.  I am the daughter of Ivy and Seth McNulty, and younger sister to Timber McNulty.    I like spending time with my family, We enjoy riding horses, hiking, biking, skiing or just hanging out.  Family time is very important to us.
I attend Gunnison High School, I am currently a freshman, and participate in the FFA program and I am working towards being on the horse judging team. I currently am a member of the Country Clovers 4H club and do a Horse, Market Lambs and Market Swine projects.
I enjoy representing the Gunnison community at rodeos and other events and look forward to seeing you at the 2021 Cattlemen's Days rodeo.
Jr. Miss
Genevieve Williams
Welcome to the 121st Cattlemen's Days. I'm Genevieve Williams, daughter of Shawn and Karen Williams and younger sister to Mark. I am 11 years old and I am in sixth grade. I have been doing 4-H for 3 years, pigs for 3 years, goats for 1 year, and horses for 2 years. I love to go horseback riding and hiking with my family. I hope to see you at Cattlemen's Days this July.
JULY 4th - TETWP Pinkapalooza Concert at I-Bar
JULY 6th - TETWP Songwriter Shuffle Concert
JULY 7th - 4-H Horse Show
JULY 8th - Ranch Rodeo (auction prior)
JULY 9th - Open Horse Show
JULY 10th - 4-H Dog Show, 4-H General Projects Awards Review
JULY 10th - Cowboy Poetry at the I-Bar
JULY 11th - 15th - 4-H General Projects displayed at Fairgrounds
JULY 11th - Watershed Barrel Races
JULY 12th - 4-H Rabbit Show
JULY 12th - 15th - Evening Carnival
JULY 12th - Pioneer Banquet at the Elks Lodge
JULY 13th - PRCA Rodeo Slack
JULY 13th - 4-H & FFA Swine Show
JULY 13th - 4-H & FFA Sheep Show
JULY 13th - PRCA #1 TETWP Rodeo
JULY 13th - Parking Lot Party at 5B's Barbeque - Live Music
JULY 14th - 4-H & FFA Goat Show
JULY 14th - 4-H & FFA Cattle Show
JULY 14th - 4-H & FFA Round Robin Showmanship
JULY 14th - PRCA Patriot Night Rodeo
JULY 15th - Cattlemen's Days Parade
JULY 15th - Buyers BBQ, Scholarship, Cattlemen's Junior Livestock Auction
JULY 15th - PRCA Gunnison Ranchland Legacy Rodeo
JULY 16th - Cowboy  Church at the Fairgrounds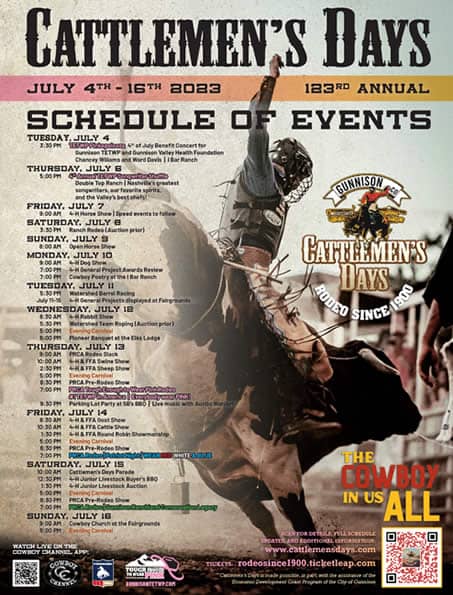 Drop Us a Line
Don't be shy. Let us know if you have any questions!