Cattlemen's Days
2023 Royalty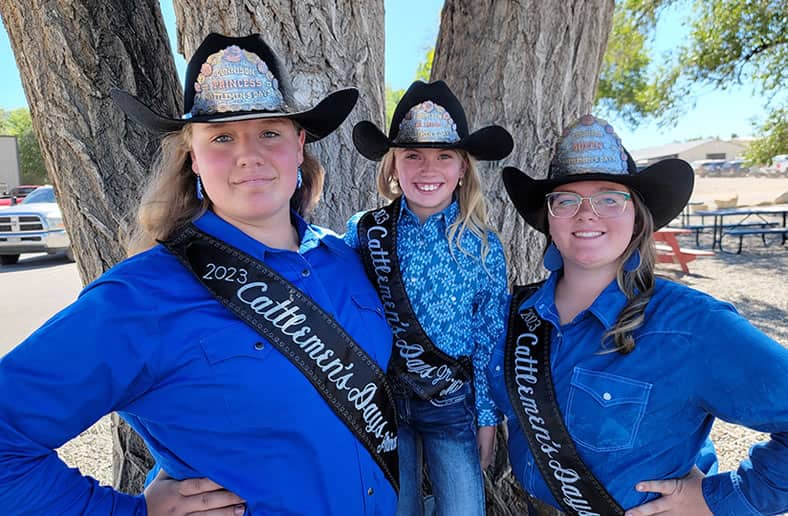 2023 Royalty
Princess Allison Hughes, Junior Miss Jaycee Herrera, and Queen Maddie Renfroe.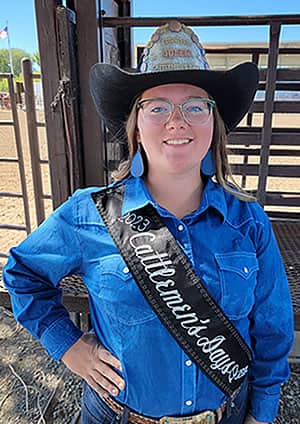 Queen
Maddie Renfroe
I am Maddie Renfroe, the 19-year-old daughter of Cheyenne Terry and Jeremy Renfroe. I am the 2023 Cattlemens Days Queen. I am from Gunnison, Colorado. I currently attend Western Colorado University majoring in Business Administration. Last spring, I graduated from Gunnison High School, while there I was an active member of the FFA program, in student council, and many other activities. In my spare time I love to spend time with my horse, barrel race, and work with the community.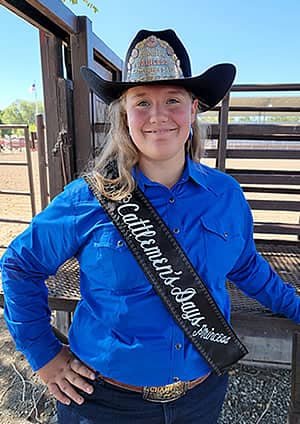 Princess
Allison Hughes
My name is Allison Hughes. I am the 2023 Cattlemen's Days Princess. I am 12 years old and in 7th grade, I go to Gunnison Middle School. I enjoy riding horses and camping with my family.  I am also in the Boots to Bridles 4-H club where I show horse and swine.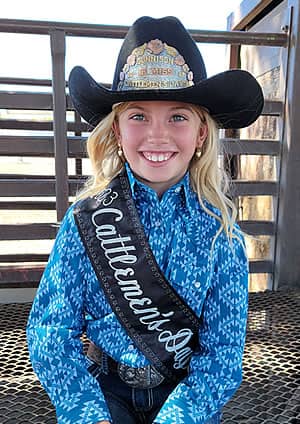 Princess
Jaycee Herrera
My name is Jaycee Herrera and I am the 2023 Gunnison Cattleman's Days Jr. Miss. I am in 4th grade at Gunnison Elementary School. Any chance I get, I am on my horse, Bubba. I am also a part of Lost Miner Equestrian Ranch's Pony Club where I have learned English and Western riding. Whenever I am not on the back of a horse, I enjoy spending time with my friends and family. My goal is to someday compete in Barrel Racing. 
JULY 4th - TETWP Pinkapalooza Concert at I-Bar
JULY 6th - TETWP Songwriter Shuffle Concert
JULY 7th - 4-H Horse Show
JULY 8th - Ranch Rodeo (auction prior)
JULY 9th - Open Horse Show
JULY 10th - 4-H Dog Show, 4-H General Projects Awards Review
JULY 10th - Cowboy Poetry at the I-Bar
JULY 11th - 15th - 4-H General Projects displayed at Fairgrounds
JULY 11th - Watershed Barrel Races
JULY 12th - 4-H Rabbit Show
JULY 12th - 15th - Evening Carnival
JULY 12th - Pioneer Banquet at the Elks Lodge
JULY 13th - PRCA Rodeo Slack
JULY 13th - 4-H & FFA Swine Show
JULY 13th - 4-H & FFA Sheep Show
JULY 13th - PRCA #1 TETWP Rodeo
JULY 13th - Parking Lot Party at 5B's Barbeque - Live Music
JULY 14th - 4-H & FFA Goat Show
JULY 14th - 4-H & FFA Cattle Show
JULY 14th - 4-H & FFA Round Robin Showmanship
JULY 14th - PRCA Patriot Night Rodeo
JULY 15th - Cattlemen's Days Parade
JULY 15th - Buyers BBQ, Scholarship, Cattlemen's Junior Livestock Auction
JULY 15th - PRCA Gunnison Ranchland Legacy Rodeo
JULY 16th - Cowboy  Church at the Fairgrounds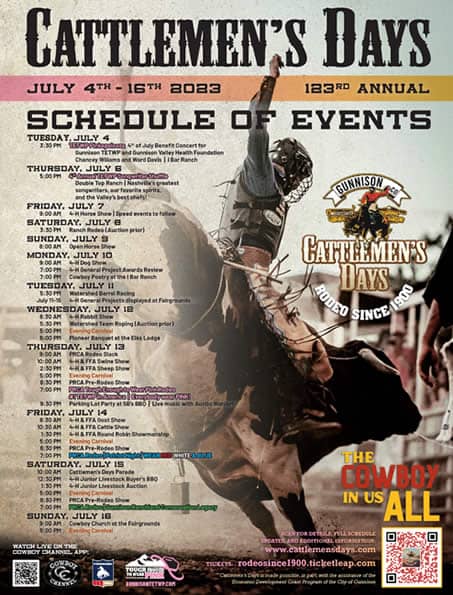 Drop Us a Line
Don't be shy. Let us know if you have any questions!