Open Horse Show Online Entry
Online entries close July 7th at 10:00 pm
General Information
Show Date/Starting Time: July 10th, 2022, 8:00 AM
Entry Fees: $5.00 per class (age 8 and under $2.00 per class)
Facility Fee: $5.00 per contestant
Payment: Pay and pick up back numbers the morning of the show.  Secretaries will be at the announcer's booth at 6:00 am.
Other Information: Rules, classes, sponsors, and other information can be found on the main Horse Show page.
Deadline Dates & Late Fees
July 7th, 2022 by 10:00 pm – NO LATE FEES
ENTRIES RECEIVED AFTER JULY 7th, 2022 10:00pm & Morning of the Show
Entry Fee = $10 per class
Online Entry Form
Online entries open on June 15th, 2022
Online entries close on July 7th, 2022 at 10 pm.
JULY 4th - TETWP Pinkapalooza Concert at I-Bar
JULY 7th - TETWP Songwriter Shuffle Concert
JULY 8th - 4-H Horse Show
JULY 9th - Ranch Rodeo (auction prior)
JULY 10th - Open Horse Show
JULY 11th - Cowboy Poetry at the I-Bar
JULY 11th - 15th - 4-H Shows and Displays
JULY 12th - Watershed Barrel Races
JULY 13th - Watershed Team Roping
JULY 13th - Pioneer Banquet
JULY 13th - 16th - Carnival
JULY 14th - PRCA #1 TETWP Rodeo
JULY 15th - PRCA Patriot Night Rodeo
JULY 16th - Cattlemen's Days Parade
JULY 16th - Buyers BBQ, Scholarship, 4H Auction
JULY 16th - PRCA Gunnison Ranchland Legacy Rodeo
JULY 17th - Cowboy Church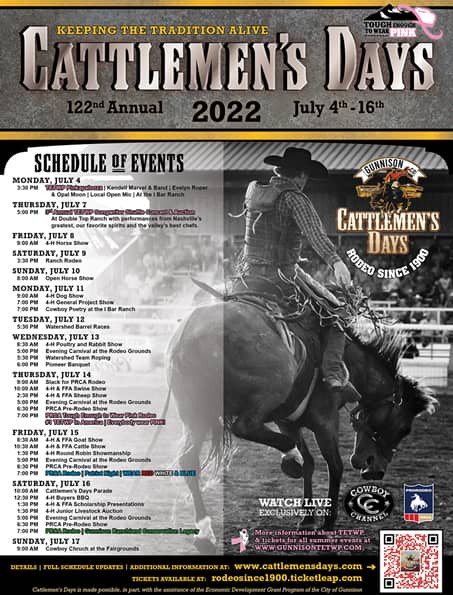 Download a Printable Schedule of Events (PDF)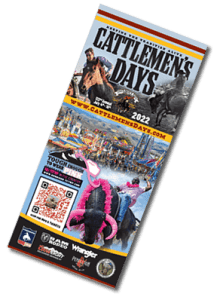 Watch for the 2022 Cattlemen's Days Brochure
around town soon!
Drop Us a Line
Don't be shy. Let us know if you have any questions!